Ramadan starts from tomorrow and I wish my Muslim friends a happy and prosperous month of Ramadan.
Ramadan is a month of fasting, peace and praying to the God almighty. It is all about controlling your lust, not just food but every aspect of life. One has to keep their urges and cravings in control.
But that doesn't mean you can't cook good food, Kitchens of every Muslim household is the most happening place after 4PM in the month of Ramadan.
Here is my little list of Recipes for Iftaar which will help you plan this month in advance.
---
Chana Daal Bhajia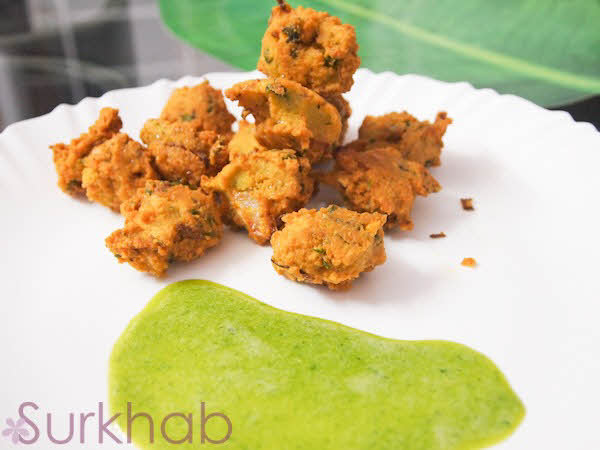 Fried Pakories made from soaked and ground lentils. Pakories are the most popular snack in India. It's so easy to make and I can bet you will find all the ingredients in your kitchen. It is Spicy and Crisp.

You can serve this pakories with green chutney.
Preparation Time: 15 Minutes
Cooking Time: 10 Minutes
| | |
| --- | --- |
| Ingredients | Quantity |
| Bengal gram / Chana daal | 2 cup |
| Onion (chopped) | 1 |
| Cumin seeds | 1 teaspoon |
| Garlic | 7 cloves |
| Green Chilli | 7 |
| Coriander leaves | 1/2 bunch |
| Carom seeds | 1/4 teaspoon |
| Salt | As needed |
| oil | for deep frying |
Method:
1. Wash and soak Bengal gram for one hour. Drain the water from the lentils and grind them coarsely as shown below in picture.

2. Grind green chilli, cumin seeds and garlic. Now mix it in a grind Bengal gram, add chopped onion, carom seeds, salt and coriander leaves. Mix it well and adjust salt according to your taste.

3. Heat the oil in a kadhai and drop the tablespoon of batter into kadhai and let the pakories golden brown on medium heat from all the sides. This takes about 3-4 minutes. Lift the pakories out of the oil with a slotted spoon. Serve with green chutney.

4. Enjoy!!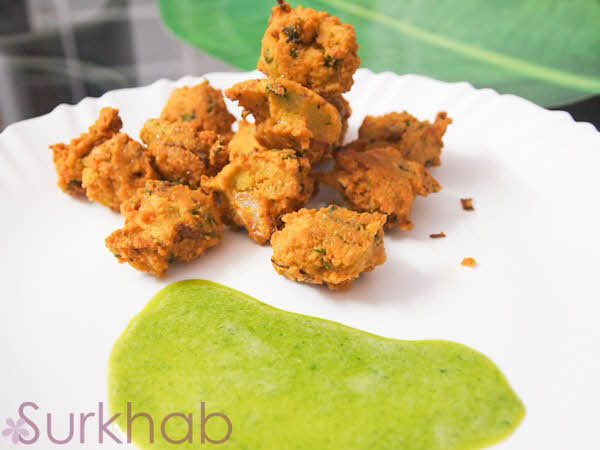 ---
Soaked, Flour-Free Oatmeal Pancakes
Recipe Notes: This is the best ratio of oats to liquid to eggs that I have come up with. I will be making more of these and will continue to experiment. If I approve upon them I will let you know.
serves 3-4
Ingredients
1 1/2 cups rolled oats
1/2 cup warm water
1/4 cup whey, yogurt, buttermilk, or water with a splash of vinegar
3 eggs, beaten
1 teaspoon baking powder
pinch of salt
1 tablespoon honey (optional)
1 1/2 teaspoons cinnamon (optional)
1/2 teaspoon vanilla extract (optional)
coconut oil or butter for cooking
Directions
The day before you wish to serve the pancakes for breakfast combine the oats, warm water, and whey in a medium-sized bowl (narrow seems to work better). Mix well, mashing the oats down into the liquid as much as possible. Leave in a warm place for 12-24 hours.
In the morning preheat your skillet over a medium-low heat.
Combine the eggs, baking powder, salt, and other flavorings in a small bowl. Pour the egg mixture into the oat mixture and stir to combine. It will be thick, unlike regular pancake batter.
Allow your coconut oil or butter to melt in your warm skillet. For each pancake scoop a heaping tablespoon or two of batter into your skillet. Gently spread the batter until 1/16-1/8 inch thick.
Allow to cook until the bottom has set and the edges and top begin to dry out, about 4-5 minutes. Flip and allow to cook another 3 minutes or so.
Serve warm with butter, nut butter, jam, honey, or real maple syrup.
---
BREAD PANEER ROLLS RECIPE
Prepare time: 15 min
Cook time: 05 min
Ready in: 20 min
Bread Paneer Rolls are the tea time snacks. This is one of the most popular recipe.
Ingredients
1 cup crumbled paneer
4 slices of fresh white bread
1/2 tsp ginger garlic paste
1/2 tsp red chilli powder
1/2 garam masala
1 small onion, chopped fine
coriander leaves as needed
1 tsp tomato sause
butter to toast
1/4 powdered cumin
salt to taste
Directions
1
First place the crumble paneer in a wide bowl. Add the red chilli powder, garam masala, salt, chopped onions, cumin and chopped coriander leaves to this. Mix lightly with your finger tips.
2
Add the tomato sauce and the ginger garlic paste and keep a side. Take bread and remove crusts. Roll out each slice as thin as you can. Regular bread with fresh and soft should be easy to roll out.
3Place about 1 tsp or so of filling on one end of the rolled out bread slice. Gently roll in one end, making sure that the filling stays well within in the first turn of the roll. Repeat with the remaining bread slices.
4
Lightly toasted skillet or pan until all sides are browned. Cut and serve with tomato sauce.
---
Check here more Ramadan Mubarak Stuff :